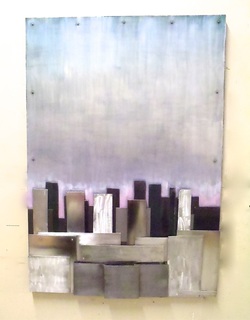 Artist Statement
My piece, A Cold Denver Night describes and immolates what I believe art and cityscapes should be poetic visual representations. I take the architectural lines that delineate the shape of the environment and extrude them into space. The three dimensional shapes and lines are then placed upon a blank metal canvas to illuminate the emotional character of the environment.
My artwork is an amalgamation of my multi -faceted background. I adumbrate drawings like an architect, dapple color with a painter's eye, capture compositions with a photographer's quick lens, and weld forms together with a sculptor's touch.
Its the places that I live, the places that I travel to that motivate my creative endeavors. Metal has become the main tool to expressing my visual vocabulary.
http://linusgallery.com/art-gallery/mixed-media-mash-artist-virginia-t-coleman-cold-denver-night/