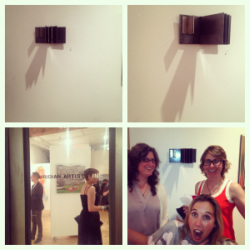 "Director's Choice: From Virtual To Actual II"
"Director's Choice" Artists from our 23rd International Juried CompetitionCurated by Vernita Nemec
May 20-June 7, 2014Opening reception Thursday, May 22, 6-8PM
Chelsea NY:
Viridian Artists
is pleased to present " Director's Choice: From Virtual To Actual ", art from the powerpoint presentation of our 23rd International Juried Competition. Curated by
Vernita Nemec
, this exhibit brings the actual art of that virtual presentation to the gallery walls. The exhibit continues from May 20 to June 7, 2014 with an opening reception Thursday, May 22, 6-8PM.
Viridian
asks both the gallery director and the museum curator to act as jurors, showing the director's choices virtually in a power point presentation during the Juried Exhibition of the museum curator's choices.
Viridian's
style of duo-jurying, exposes the work of as many outstanding artists as possible. Though some works were chosen by both the museum curator and the gallery director, many new works were introduced by this process, demonstrating that curatorial choice is as much about the taste of the curator as the "quality" of the art.
Despite the popularity of the web and the fact that we are becoming more adept at looking at art on the web, seeing art in reality offers the viewer a much richer experience. All artists have a personal obsession that serves as a starting point in their search for ways in which to transform inner visions into reality. Transforming these inner realities into art becomes yet another translation of the virtual into the actual.
The political edginess of Craig Cheply's "100% Natural...", the quietness of Erika Gagnon's "Winterfield"; the directness of Steven Falks "Happiness Makes You Weep", the mystery inherent in Ellen Fisher's "Lost Toy 3"; the contrasted realities of Joshua Greenberg's "Abstract Landscape" and Eric Tomberlin's photograph of "Issaquah Highlands" all demonstrate the incredible varieties of creative expression and are just a few examples of the fascinating and unique visions of these artists' inner worlds.
As we all know, professional opinions vary widely regarding what is the "best" art, for in the end it is a question of taste, even in the eye of the professional. One of
Viridian's
most important missions is to provide meaningful exposure to under-known artists.
ELLEN BURNETT ~ CRAIG CHEPLY ~ VIRGINIA T COLEMAN ~ JACKIE EHLE INGLEFIELD ~ CLAUDIA FAINGUERSCH ~ STEVEN FALK ~ ELLEN FISHER ~ CYNTHIA FLEURY ~
ERIKA GAGNON ~ JOSHUA GREENBERG ~ BARBARA HABENSTREIT ~ JOSEPH KUCINSKI ~ KYU JIN LEE ~ DEE DEE MAGUIRE ~ TRISH O'DAY ~ ANGELA SMITH ~
ERIC TOMBERLIN
Gallery
hours: Tuesday through Saturday, 12 - 6 p.m.
For further information please contact Vernita Nemec, Gallery Director
at 212.414.4040 or viridianartistsinc@gmail.com or view the gallery website:
www.viridianartists.com