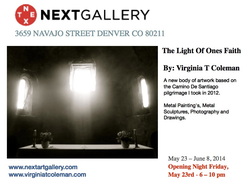 The Light of Ones Faith
@ NEXT GalleryBased on a pilgrimage along the Camino de Santiago, "The Light of Ones Faith" is an intimate, artistic exploration of the intangible. From May 23rd until June 8th, local artist Virginia T. Coleman will tell the story of her Spanish journey using a visual vocabulary of abstract metal works, photographs and drawings. In her exhibit she shares her personal discoveries, enlightenments and questions of faith.
"Faith is very personal and my goal for this show is not to clearly define faith but to showcase that diversity," she said in a CRAVE interview. "As I walked across Spain questioning my own faith and meeting so many interesting people, I was struck by just how unique the concept of faith is to every individual. Faith is an ever living notion – not static and not singular – and laced throughout the world. I hope the viewers can see the beauty of the moments I am capturing and find the particular scene that resonates more to their faith."
Coleman, who currently works in Golden as a welder, said her main artistic medium is metal because it helps her articulate the abstract for her viewers.
"I use metal because of possibilities the material possesses. It has great structural strength to delicately cantilever into space and the ability to capture light in its inherent material quality."
In addition to her metal works, Coleman will also be sharing a 300-page sketchbook, showcasing the drawings she created during her journey.
Currently residing in Denver, Coleman said she is excited to see the art scene growing in her own community and is proud to work alongside so many talented and progressive artists.
"I think one of the great things about Colorado is that it is such an outdoor very hands on orientated place that the level of craftsmanship I have seen is amazing. Artists really want to use natural materials and showcase their unique skills. There is a lot of metalwork and fabricating going on throughout Colorado, and I'm fascinated by the people I meet involved in this particular realm of art."
Coleman hopes her artwork will continue to grow and evolve alongside her fellow creators.
"I think there is a great artistic energy running through Denver," she said. "So many quality galleries, public sculptures and progression from the artists. I like how diverse the art scene is and that it doesn't have that competitive out-of-control edge that some cities seem to place over artists. I look forward to seeing where Denver's art scene can take my work."
To see more of Virginia T. Coleman's work, go to
www.virginiatcoleman.com
or visit
the NEXT gallery
to see "The Light of Ones Faith" exhibit in person